New waste strategy for Herefordshire
---
Herefordshire Council have agreed a new waste strategy at the Council's Cabinet meeting today, 29th July.
Below is the statement Herefordshire Council have issued:
Reducing the amount of waste we produce, and reusing and recycling where possible, benefits the county and the environment, and is the aim of a new waste strategy for Herefordshire agreed at the council's cabinet meeting today (29th July).
The new waste strategy sets out the changes that will be taking place to the way that household and business waste is collected and then treated, and schemes that support and encourage a reduction in the amount of waste being produced. These include:
Reduce – promoting schemes that reduce the amount we throw away such as community fridge schemes
Reuse – supporting organisations that repair and reuse items, community share schemes and encouraging donations to charity
Recycle – composting garden waste, supporting people to recycle more
Recover – introducing a new kerbside food waste collection and producing energy from food waste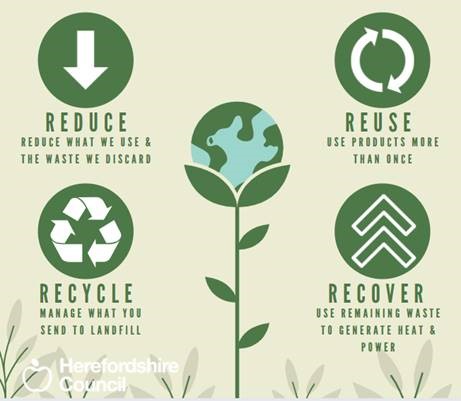 The small proportion of waste remaining will only then go to landfill.
The strategy also sets out changes to the black bin and recycling collections based on feedback from a resident consultation held earlier this year, when around 3,500 people told us what worked well for them and what could be improved about their kerbside collection service.
A number of pilot schemes will trial these changes to see what works best, so that they can be introduced across the county in the most effective way.
Cllr Gemma Davies, cabinet member commissioning, procurement and assets said: "We want to introduce and support more ways for people to reuse and recycle, reduce the amount of waste we all produce and ultimately reduce what goes to landfill, as this benefits residents and communities and is better for the environment. Our new waste strategy sets out clear measures to achieve this.
"The council's waste collection and disposal contracts are due to end in 2024. It is important that we use this opportunity to align our waste strategy with our vision for a more sustainable county and our declared climate and ecological emergency, and to fully consider how to make changes to meet the requirements of the government's 2018 Resources and Waste Strategy for England.
"I am particularly excited to see how we can work with our local communities to support and encourage people to reuse and recycle more. They do say one person's trash is another person's treasure – and we have set an ambitious target to increase the amount of recycling in the county. We also intend to make better use of our garden waste for composting and food waste to produce energy."
The new waste strategy, as well as the outcome of the rubbish and recycling consultation, can be found on the council website
---
Trending Now
You may also like